Purchasing Knives and Restricted Items
Author: Sales Team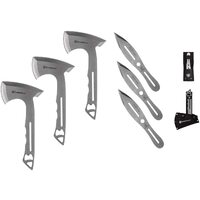 In General - You must be over 18 years to purchase any edged collectable from us. Please be aware of your compliance with local and state laws to legally purchase swords, knives, axes etc. We will not be responsible for any consequences of non-compliance.
Oz Gun Mart will not be held liable for misuse, careless use, unauthorized use and modifications made to the weapon that will also void the warranty. Please always use your weapon safely and follow the manufacturer's instructions. We have also highlighted some items we have determined to have restrictions below but always research your states/territories weapons legislations before making any purchase. If your state/territory is not shown, please contact us for more info. The regulations are periodically updated and can be out of date for a short period of time. Please double check with your state/territory licensing service for current legislations as these are complex and subject to change. Any summary or information below will never serve as legal advice in any way.
| | | | | | | | | | |
| --- | --- | --- | --- | --- | --- | --- | --- | --- | --- |
| State | QLD | NSW | VIC | ACT | TAS | SA | WA | NT | NZ |
| SLINGSHOTS | YES | NO | NO | YES | YES | YES** | NO | NO | YES |
| POCKET SHOTS | YES | YES* | NO | YES | YES | YES** | NO | NO | YES |
| SLINGSHOT BANDS | YES | YES | YES | YES | YES | YES | YES | NO | YES |
| ZOMBIE KNIVES | YES | NO | YES | YES | YES | YES | YES | YES | YES |
| THROWING KNIVES | YES | YES | NO | NO | YES | NO | YES | YES | NO |
| DAGGERS | YES | YES | NO | NO | YES | NO | YES | YES | NO |
| SWORDS | YES | YES | NO | YES | YES | YES | YES | YES | YES |
*The

Pocket Shot Hammer Handle

is prohibited in NSW
**You must have a "Lawful excuse" to possess a

Slingshot

or

Pocket Shot

in South Australia
NSW: Slingshots are illegal in NSW and can't be sold (with exception for Pocket Shot Slingshot as it is not 'y' frame).
NSW Weapons Act
Schedule 1 - Prohibited Weapons
Slingshot (being a device consisting of an elasticised band secured to the forks of a "Y" shaped frame)"
NSW Zombie Knife Legislation
Beginning 28 February 2019
https://www.police.nsw.gov.au/__data/assets/pdf_file/0006/620718/WhatsNewZombieKnifeLegislativeAmendment.pdf
QLD:
QLD Weapons Act
Weapons Categories Regulation
Single hand opening knives designed as a weapon


ACT: Slingshots are currently available for sale, however, you must be over 18yrs of age to purchase.
ACT Weapons Act
ACT Prohibited Weapons Act - Schedule 1


VICTORIA: Commercially made complete slingshots are considered a prohibited weapon.
VIC Weapons Act
Control of Weapons Regulations 2011

TAS: Slingshots are legal in Tasmanian as long as they are used on private property (Confirmed by contact at http://www.customs.gov.au/webdata/resources/files/ImportingWeapons-PoliceCertificationTest.pdf)
TAS Weapons Act
TAS Imitation Firearms

SA: Slingshots are considered a Dangerous Article, and exemption must be presented.
SA Weapons Act
SA Weapons Regulations
SA Police - Prohibited Weapons List
WA: Slingshots are illegal in WA and can't be sold.
WA Weapons Act
WA Weapons Regulations


NT: Slingshots are illegal in NT and can't be sold.
Weapons Control Regulation
NT Legislation Database
NEW ZEALAND: Throwing knives & daggers are illegal
NZ Prohibited Offensive Weapons (other than firearms)
NZ Customs Prohibitions & Restrictions
OZ GUN MART DOES NOT WARRANT THAT A PERSON MAY LEGALLY PURCHASE, POSSESS, OR CARRY ANY AND ALL ITEMS OFFERED ACCORDING TO FEDERAL, STATE, OR LOCAL LAWS. THESE ITEMS INCLUDE ALL THE PRODUCTS AVAILABLE FOR PURCHASE FROM OUR WEBSITE. WE BELIEVE IT IS EXTREMELY IMPORTANT TO COMPLY WITH FEDERAL, STATE AND LOCAL LAWS. BY PURCHASING ANY ITEM FROM OZ GUN MART, THE BUYER WARRANTS THAT HE/SHE IS IN COMPLIANCE WITH ALL FEDERAL, STATE AND LOCAL LAWS AND IS LEGALLY ABLE TO PURCHASE THESE ITEMS.